Buying a Massage Chair? Avoid These Common Mistakes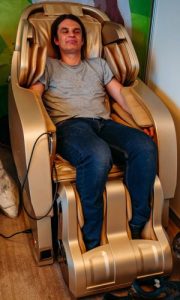 Investing in a massage chair
for your home spa brings exciting benefits for your rest and relaxation. But there are some shady sales tactics and red flags to watch out for when making this large purchase. By recognizing these warning signs, you can avoid disappointment and make sure your massage chair delivers the value you expect. We'll review some of the most common questionable claims, schemes, and shortcuts that could limit your satisfaction. Protect your investment by dealing only with reputable retailers who focus on service, education, and your complete happiness with the massage chair.
Beware Unsubstantiated Massage Chair Health Claims
As you evaluate different chairs, you're bound to see lofty assertions of health benefits ranging from curing back pain to eliminating stress. But skepticism is warranted, as the
FDA
strictly regulates medical claims related to massage products.
Massage chairs
are classified as wellness devices, not medical equipment. They should never promise to diagnose, treat, or heal medical conditions. At best, massage chairs aim to temporarily reduce muscle tension, increase circulation, and promote relaxation. Any seller vowing to cure or permanently fix health issues with a massage chair is making illegal claims you should not trust. Seek
FDA-approved treatments
from licensed professionals for medical needs. For your massage chair, focus on general wellness benefits rather than outlandish medical promises.
Avoid Knockoffs and Counterfeit Massage Chairs
In hopes of scoring a discounted deal, some buyers fall for
knockoff massage chairs
mimicking the designs of reputable brands. But these
counterfeit chairs
are usually manufactured cheaply with inadequate materials and shortcut engineering. This results in limited lifespan, frequent breakdowns, and safety hazards from electrical or structural issues. You'll also have no
warranty coverage
with knockoffs. Verify that retailers are authorized sellers of the brand name chairs they offer. Research the brands online for certifications, service center locations, and customer reviews indicating reliable quality. Though initial cost may be lower, a poorly made counterfeit chair ends up costing more in repairs and replacements down the road. Avoid the copied chairs and stick to reputable brand names only.
Massage Chair: Watch for Bait-and-Switch Tactics
If an advertised massage chair deal seems too good to be true, it very well might be a
bait-and-switch situation
. High-pressure salespeople often lure in customers with amazing deals on models that aren't actually in stock. Once engaged, they try upselling a more expensive chair or limited addons. Another tactic is drastically inflating the chair's perceived value with a fake "MSRP" that's much higher than actual market value. This makes discounted pricing seem like a steal. Be wary of deals that seem unusually steeply discounted or must be claimed by specific deadlines. Ask the seller direct questions on chair availability, and reference prices listed on the
manufacturer website
. Don't let questionable tactics bait you into purchases you didn't plan on.
Don't Fall for High-Pressure Massage Chair Sales Tactics
Unethical massage chair retailers
rely on pushy sales tactics to rush your decision and limit comparison shopping. You may be refused pricing information until providing personal contact info. Or told exaggerated stories of high demand with warnings like "act now before it's gone." Salespeople may refuse to let you leave the store to consider options or consult with others. Be prepared to stand firm against this pressure. Take your time to thoroughly evaluate different chairs without hurry or distraction. Don't let manipulation sway you from making the optimal data-driven decision. Any seller refusing you time to think or share details upfront does not have your best interests in mind.
Check for Short or Non-Existent Massage Chair Warranties
A
warranty
protecting against defects for multiple years is a prime indicator of a massage chair's expected quality and lifespan. Reputable brands offer warranties covering parts, labor, and the chair frame from as short as 2 years up to a robust 5 years.
Extended protection
can be purchased for additional peace of mind. Beware of any chair being sold without a warranty or very limited coverage under 12 months. The lack of protection implies the seller does not stand behind the product's reliability. Also be sure to review what chair components are actually covered, as some warranties only apply to the motor or frame. Given the heavy costs of massage chair repairs, a strong warranty is a worthwhile investment.
Look Out for Shady Massage Chair Financing Terms
While
financing
can make paying for a massage chair more affordable, beware of retailers offering plans with unclear or unfavorable terms.
Shady financing deals
may hide ballooning interest costs that vastly inflate the chair's price over time. Make sure you clearly understand applicable interest rates, payment timelines, and total costs including interest and fees. Review all terms and calculations closely to ensure they make sense. Reputable financing offers will provide you a transparent summary of the payment schedule showing principal paid versus interest with each installment. Don't be pressured into financing that seems suspicious or financially irresponsible.
Confirm Massage Chair Return Policies and Trial Periods
Most massage chair sellers offer some kind of
in-home trial period
, which allows you to test the chair and potentially return it for a refund if unsatisfied. Be sure to get trial terms in writing, as return shipping costs are often the buyer's responsibility even within the trial window. Try to find a retailer offering
free returns
to maximize your flexibility. Also understand if there is a minimum trial period before returns are allowed, as some require 2-3 weeks of testing before deciding. Consider chairs from sellers with at least 30 days for home trials. This gives you adequate time to experience the massage benefits before fully committing.
Massage Chair Pricing: Shady Sales Practices to Avoid
Avoiding shady sales practices takes some vigilance when seeking your perfect massage chair. But your investment will pay dividends for years to come by partnering with an ethical seller focused on your education and satisfaction. Our team ensures your massage chair buying experience is smooth, transparent, and enjoyable from start to finish. Contact us at Best Massage Chairs for pressure-free guidance to the massage chair tailored for you.